Smithing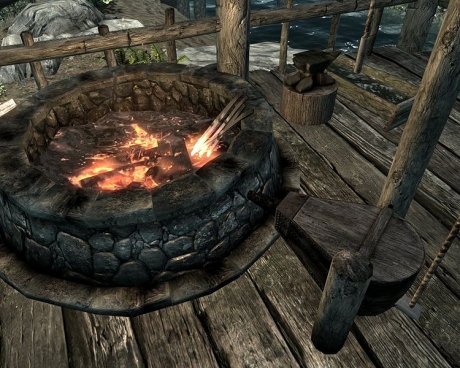 Smithing is a Warrior skill which allows the creation and improvement of weapons, armour and jewellery. You need certain raw materials, shown next to the item in the smithing menu, to smith. These can be found in the wild, purchased, or created from simpler and cheaper materials. Smithing is, in a way, the most complicated of the crafting pursuits, because of the different workspaces used. They are as follows:
Anvil/Forge - Smithing armour, weapons and jewellery.
Workbench - Improving armour
Grindstone - Improving weapons
Tanning Rack - Creating leather and leather strips for use as materials
Smelter - Turning ore into ingots, which can be used for smithing.
Note that only the first three of these are actually related to the Smithing skill, i.e. only these three will increase your Smithing skill when performed, and only these three have their success affected by your Smithing skill. The higher your skill, the better your items and improvements.
Alchemy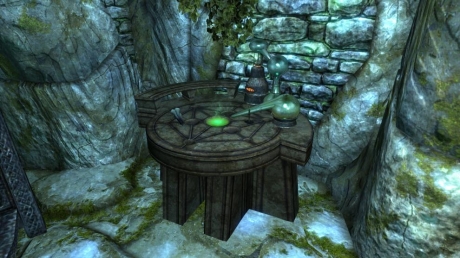 Alchemy is a Thief skill which permits the creation of potions and poisons. Potions are ingested to help you; Poisons are applied to your weapons to increase their effectiveness (for one hit).
You will find alchemical ingredients throughout Skyrim, and you must find an Alchemy Lab to mix these together. Initially, you will have no idea what you are doing; all you can do is mix ingredients together and hope for the best.
However, if the ingredients you mix have a common property (each ingredient has four properties), a potion or poison will be created. Also, you will have learned the properties that you used for those ingredients (for example, you know that A has a Damage Health property) and you will be able to combine them again to create the same potion (so if A and B were found to share Damage Health, you can select Damage Health and keep making it with A and B0).
Slowly, you learn more recipes and properties, and as your skill increases, your potions and poisons become more potent.
Enchanting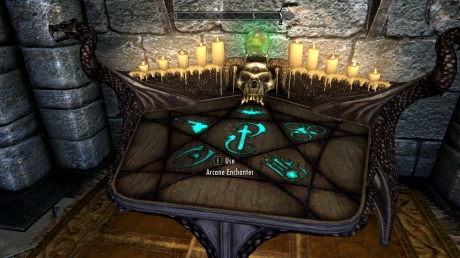 Enchanting is a Mage skill which allows you to imbue your weapons and apparel with magical effects.
Before you can do anything else, you need to discover magical effects. You do this by Disenchanting magical items at an Arcane Enchanter, which destroys the items but permanently teaches you how to give other items their effects (though your enchantments will initially be far weaker than the ones you find). Consider disenchanting your old magical gear rather than selling it.
Next, you must fill a Soul Gem. The empty gems are easy to find, or you can just buy them from any magical item vendor. Sometimes, you can find filled gems as well. If you wish to fill your own gem, you must use the Conjuration spell Soul Trap (an Apprentice spell) on an enemy, and kill it within 60 seconds. If you succeed, the enemy's soul will fill the smallest gem into which it can fit (A mammoth has a grand soul, so you need a grand soul gem to hold it). A human soul can only be held inside a Black Soul Gem.
Returning to the Arcane Enchanter, you select an un-enchanted item, a learned enchantment and a soul gem, and the item is enchanted. The strength of the enchantment depends upon your skill and the size of the soul that you used.