Follow the compass marker to find the exit. When you cross the bridge, you'll be attacked by some Gargoyles. Take them out and then turn right. You're looking for a ramp that will lead upward. Take that to the higher level and go inside the small room. Open the door and you will come to a multi-tiered room. Make your way to the very top and stand overlooking the room. You should see a lever on the floor surrounded by candles. Activate it and the coffins around the room will unleash skeletons on you. Kill them and make your way to the gate on the North wall of the room. Follow the hallway until you come to some sort of theater or court.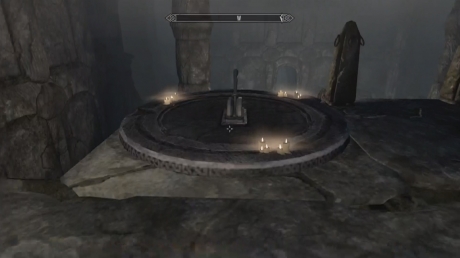 There will be more skeletons in this room that will attack you. Be cautious because there will also be a Dragon Priest lurking around here. Before leaving the room, follow the room around the top of the stairs and you should come along a Word Wall.
Take the door out of this room to the North and then go through the gate beyond that. Then go through the cave opening beyond that. You're now outside. Serana will ask you to take her home. Home is far to the NW beyond Solitude. If you have Fort Hraggstad, that's a pretty good place to start from. From there, just head NW and down towards the water. You'll eventually see the Castle far out in the water. The compass marker will lead you to a small boat you can take to the castle.
When you land, make your way up to the castle front gate and after a minute, you'll be let in. Go inside and watch the happy reunion. Talk to Serana's father and he'll offer to turn you into a vampire or exile you from the castle. Turning into a vampire will bar you from the Dawnguard and start the Vampire Lord quests whereas turning him down will have the reverse effect. No matter which option you choose, after you've completed the quest line, you will be able to become a vampire anyway - even if you joined the Dawnguard.