After the conversation in the basement, head for Sky Haven Temple. Ideally speaking, you want to start at Markarth either by carriage or fast travel. Head back up the river and follow it north when you can. You can actually drop right in front of the cave if you travel along the mountains but I recommend a slow approach. There's a dragon that hovers around the entrance as well as groups of tribal people called Forsworn. While you could pass them on the way in, you won't be able to fast travel on the way out because they'll be nearby, making your exit difficult. On the way in, however, you have the assistance of a couple of companions (three if you have your own), not to mention the forsworn and dragon will fight each other.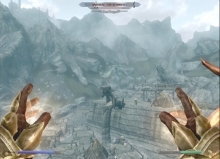 Once you enter, kill the group in the first room, they shouldn't be too difficult with all the help you have. Then keep going until you come to a room with a really tall ceiling. Take the stairs on the right. At the top will be three spinning pillars. Turn them all so that they show the symbol with the wings around the outside and an arrow pointing down in the middle. Cross the bridge and go through the cob webs.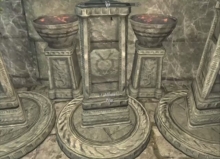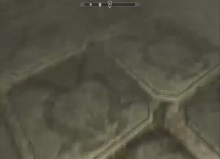 In the next room, there will be pressure plates all over the floors. The symbol you want here is the same as the one you wanted on the pillars. Only walk on those tiles until you make it to the far end and pull the chain to deactivate the trap. Then go to the doorway and go over the newly lowered bridge. Go through the caverns until you come to a large room with a big face on the wall. You have to wait until your party catches up and Esbern explains the solution to this. Stand on the giant circle in the floor and "activate" the floor. This will cause you to shed some of your own blood to open the door. Go through the face in the wall and up a long hallway.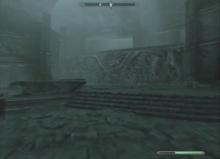 In the next room, you will come to Alduin's Wall. Unfortunately, at this point, you need to wait for Esbern to catch up, then talk for a while and then you'll be asked about a particular shout. When you respond that you don't know, you'll have to head to High Hrothgar to ask the Grey Beards. Before you leave, check the side rooms here for a full set of Blade Armor and Dragon's Bane, a sword that does extra damage to dragons and extra shock damage.