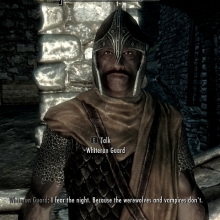 Guard Dialogue Overhaul made by Eckss can be downloaded from Skyrim Nexus.
Does the wrong dialogue's from guards bother you too? You don't fetch the mead for the Companions right?
The default dialogues of guards of Skyrim are totally wrong and breaks the immersion. Guard Dialogue Overhaul aims at fixing the issue so that players have better immersion and realism while playing.
With new version of the mod the installation procedure and compatibility changes and hence it is recommended to keep a check on this mod page on Skyrim Nexus to stay updated.