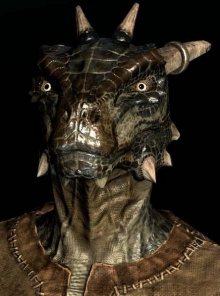 The Argonians of Black Marsh are an amphibian, reptilian species. They are thought to be indigenous to Tamriel. Although they are difficult to befriend, Argonians are known to be fiercely loyal. They have a high immunity to disease, and are skilled in stealth and certain forms of magic.
Abilities: Resist Disease 50%; Water Breathing
Power: Histskin: Recover health ten times faster for 60 seconds.
Skill Bonuses:
+10 Lockpicking
+5 Alteration, Light Armor, Pickpocket, Restoration, Sneak