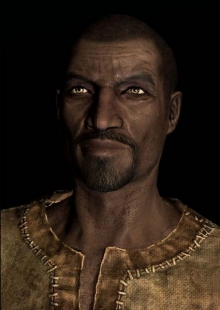 Although they appear human, the dark-skinned Redguards are not descended from the Nords of Atmora; they sailed from Yokuda and made their home in the province of Hammerfell. They have a high aptitude with all forms of combat, and are very hardy, but they prefer lone adventuring to serving in armies.
Ability: Resist Poison 50%
Power: Adrenaline Rush: Stamina regenerates 10 times faster for 60 seconds.
Skill Bonuses:
+10 One-handed
+5 Alteration, Archery, Block, Destruction, Smithing