There are many ways of making your way around Skyrim, and the way you choose will depend upon your destionation.
Walking is immediately the most obvious, and can be done from the start of the game. It is slow, but you can look around you at the beautiful scenery, easily find caves and other points of interest, and defend yourself against attackers. Initially, you will have no choice other than walking, for the majority of destinations.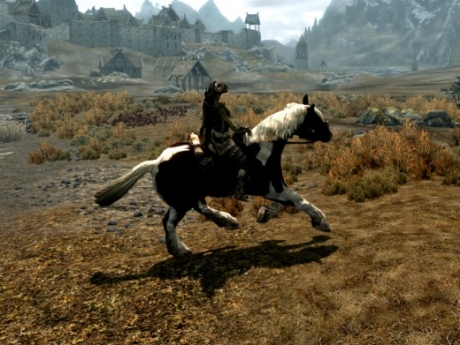 Horse Riding is unlocked shortly afterwards. You can purchase a horse from the stables of any city for a rather substantial 1000 septims. Unlike in Oblivion, the differences between horses of different cities is simply cosmetic - they cost the same, are equally durable, and ride just as fast. Certain quest lines will give you horses which are considerably longer-lasting. If you do lose your horse, and it is still alive, fast-traveling should return it to you; failing that, return to the stable where you purchased it.
You cannot fight on horseback, but you can quite easily avoid combat by outrunning enemies. Riding is considerably faster than walking, and you can still take in your surroundings, but stopping to inspect things and pick them up is more complicated.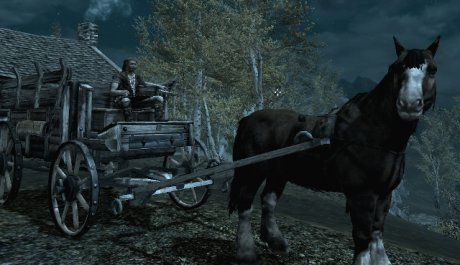 Carriage Travel only operates between cities. It is inexpensive, and instant, but you will not see anything on your journey, you do not discover anything new, and the number of potential destinations is very small. You will probably only use this right at the start of the game, or if you want to avoid fast travel.
Fast Travel is a fairly controversial mechanic. It is available immediately, and you can fast-travel to any location on the map that you have previously visited simply by clicking on it on the map screen. This will instantly take you to that location, without any pay. Youo cannot fast-travel whilst in combat.
Fast travel's main disadvantage is that it discourages exploration. There are many things to discover in Skyrim's vibrant world, and you miss out on them if you fast-travel everywhere. Consider using one of the first two methods for short journeys, unless you are feeling impatient and really just want to get into the action. If you want greater realism, or you really want to experience the world, you can avoid using the mechanic entirely, and rely upon carriages for long distances and horse-riding or walking to reach your destination from the nearest city.