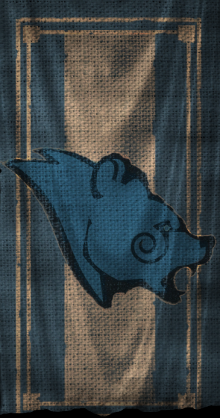 The Stormcloaks are a rebel faction who seek the removal of the Empire from Skyrim, and support the claim to the throne of Skyrim of Jarl Ulfric Stormcloak of Windhelm, who is also their supreme commander. They are engaged in a war with the Imperial Legion. They are largely motivated by the White-Gold Concordat, a hugely unpopular treaty with the Thalmor which banned the worship of Talos (Tiber Septim), a well-loved Nordic hero and founder of the Empire, who is considered to be one of the Nine Divines.
The Dragonborn is advised to join the Imperial Legion by Ralof, a Stormcloak awaiting execution at Helgen during the dragon attack, and whether he follows Hadvar or Ralof, he can travel to Windhelm and speak with Jarl Ulfric Stormcloak to enlist.
After killing an ice wraith to show his strength, the Dragonborn is officially inducted and given a set of armour. His first mission is to retrieve the Jagged Crown, an item of legend, from Korvanjund and return it to Ulfric. At this point, he can instead return it to General Tullius of the Imperial Legion to change factions, the last time this can happen.
If the Crown is returned to Ulfric, the Dragonborn is sent to Whiterun with Ulfric's axe to request the Jarl to join the Stormcloaks. After some deliberation, he refuses and returns the axe, and contacts General Tullius to ask for soldiers to defend Whiterun. The Stormcloaks attack, and with the help of the Dragonborn, they break down the gates of Whiterun, fight their way to Dragonsreach, the Jarl's palace, and force him to surrender. He does so, and Vignar Gray-Mane, a loyal Stormcloak, is appointed Jarl of Whiterun.
At this point, the reunification of Skyrim begins. The Dragonborn is sent to each Hold (region) in turn to damage Imperial influence. This often involves clearing out important forts and freeing Stormcloak prisoners.
When almost all of Skyrim is under Stormcloak control, the Stormcloaks attack Haafingar, the Legion's most powerful hold, and move onto Solitude, the capital of the hold and of Skyrim, and the seat of General Tullius and Jarl Elisif, the High King's widow and the lady whom he supports to be High Queen.
In Solitude, the Stormcloaks fight their way to the Blue Palace, and finally reach General Tullius. He is defeated, and the player chooses whether to kill him or let Ulfric do the job. Either way, Jarl Elisif is spared and retains her position as Jarl of Solitude, but Stormcloak control of Skyrim is almost entirely complete, and Ulfric is the unofficial High King of Skyrim, almost certain to be granted the position during the moot which will be called soon.